Koushiro "Izzy" Izumi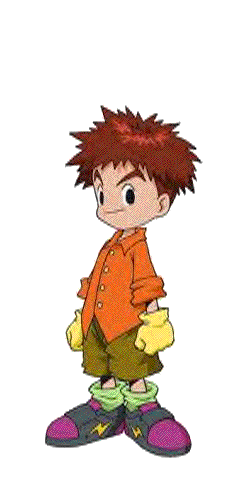 Izzy is a computer genius who would rather type away on his computer than go to a party or anything normal like that. He is always thinking and sometimes gets really caught up in his work. He is also adopted. His Digimon is Motimon/ Tentomon/ Kabuterimon/ Megakabuterimon/ Herculeskabuterimon.
Tentomon
Tentomon is Izzy's digimon and he is also very knowledgeable about the digiworld. He introduces all of the digimon at first. He teaches Izzy to focus on the real world and not the problem that he's trying to solve.
| | | |
| --- | --- | --- |
| Stage | Name | Attack |
| In training | Motimon | Bubble Blow |
| Rookie | Tentomon | Super Shocker |
| Champion | Kabuterimon | Electro-Shocker |
| Ultimate | MegaKabuterimon | Horn Buster |
| Mega | Herculeskabuterimon | Mega Electro-Shocker |