Hikari "Kari" Kamiya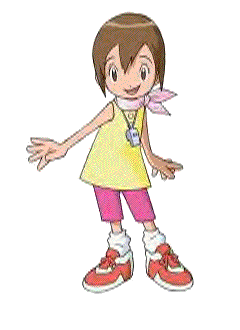 Kari is Tai's little sister and she's a nice and caring kid. Her Digimon is Nyaromon/ Salamon/ Gatomon/ Angewomon.
Gatomon
Gatomon is Kari's Digimon and despite her earlier image, Gatomon is actually a caring and all around nice Digimon. She was tortured by Myotismon and forced to be his slave. When she turned on him, man, was he mad.
| | | |
| --- | --- | --- |
| Stage | Name | Attack |
| In training | Nyaromon | Bubble Blow |
| Rookie | Salamon | Fire Paws |
| Champion | Gatomon | Lightning Paw |
| Ultimate | Angewomon | Heaven's Charm/Celestial Arrow |
| Mega | MagnaDramon | Fire Tornado |